Hey bobbinettes?  bobbineers?  I dunno, the nickname might need a little  work but I'm kind of liking it.
I am off to Quilt Market in the morning with a new Around the Bobbin pattern in hand so I had to squeeze in a quick post to introduce the hot dish.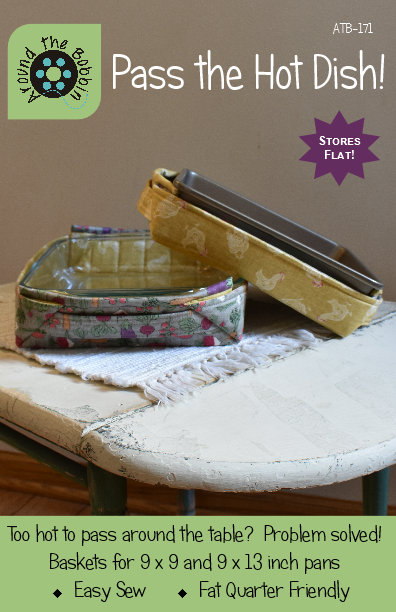 Hot dish is the subject of a lot of Minnesota jokes.  We don't call it casserole.  Ya, you know.  I wasn't sure, do I embrace it?  Or try to give it a trendier name?  In the end it is hot dish.  Definitely hot dish.  This one has been in the works for a long time and every time I'd make lasagna, or sweet and sour chicken, or apple crisp and I wanted to pass it around the table at one of our many family gatherings, I'd mutter under my breath that I NEED to finish that pattern, just for my family's sake, good grief, and of course all those other families suffering through attempts to pass a hot dish from one person to the next.
Okay, so here's a couple of cool features 🙂
9×13 and 9×9 pans vary in height so you can make the  regular or tall size to accommodate your favorite pan.
You're gonna love the construction method.  It's kind of a fun trick.
It's super easy to sew
Great for gifts, especially the holidays, you know, are coming up fast.  Also, bridal shower gifts.  If I had this pattern done in time for my niece's shower last summer, I could have given her a basket.  Instead I had to buy something, which isn't nearly as fun or personal.
And they fold flat for storage.  No filling up your cupboards.  You invert the basket and it flattens out so that you can slide it into your kitchen cupboard or drawer.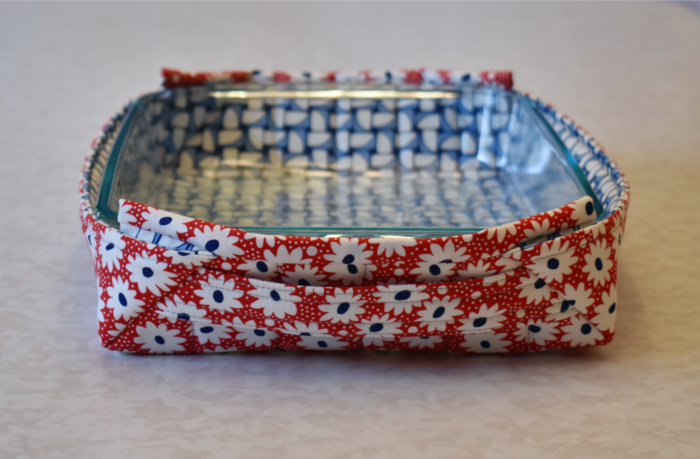 You can get the downloadable PDF pattern at the shop and the  paper pattern will be available next week when I get back from quilt market.  Use the discount code HOTDISH15 to get 15% off the price (now thru Oct. 30, 2017).
I'd like to share a few tester baskets with you.   These testers were awesome, and I am so glad for their testing smarts.
Sam's basket is just so dang cheerful.  I absolutely love these colors and she did an amazing job of it.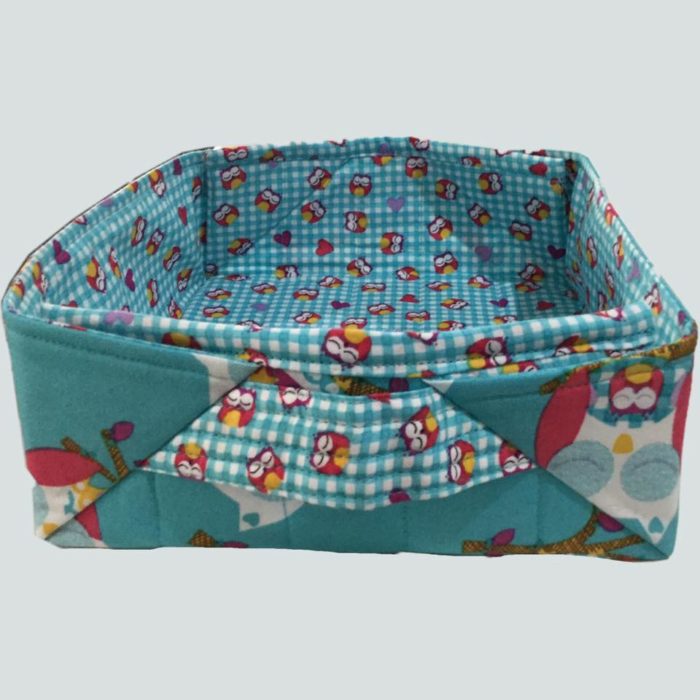 Tammy's basket is pretty and looks just great.  Nice work!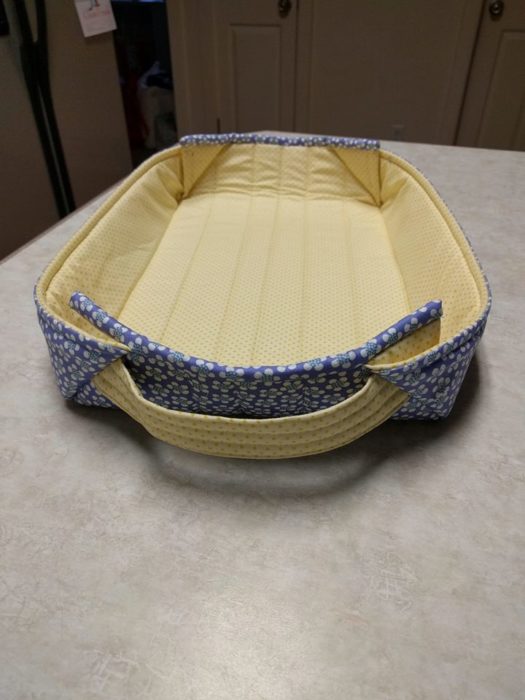 Pat's basket is delightful.  Thanks for sharing, Pat!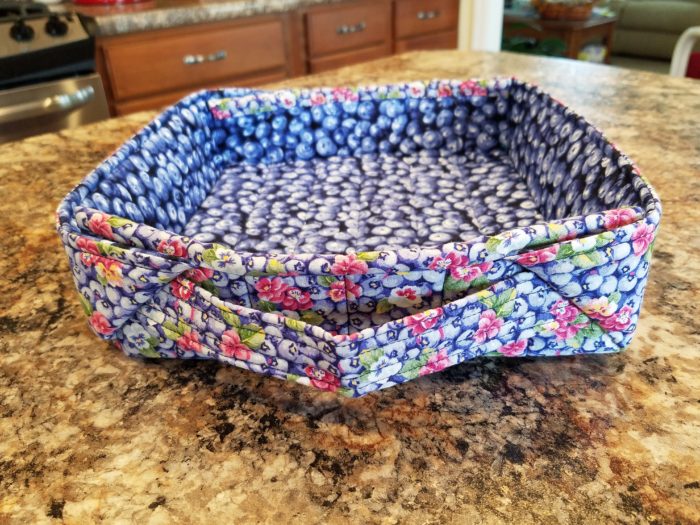 Nicole's basket is simply beautiful.  Those rich colors would set off a table nicely!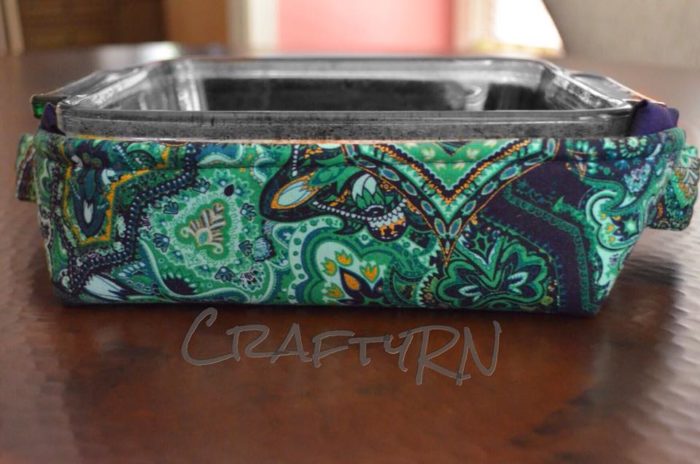 Jenniffer's basket is a fall delight – a good time for hot dish!
Melissa has another wonderful fall-themed basket.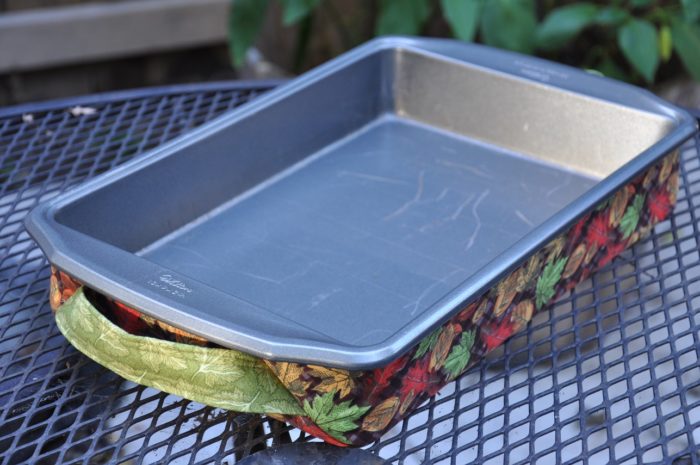 Mary Jo did a super great job on her basket.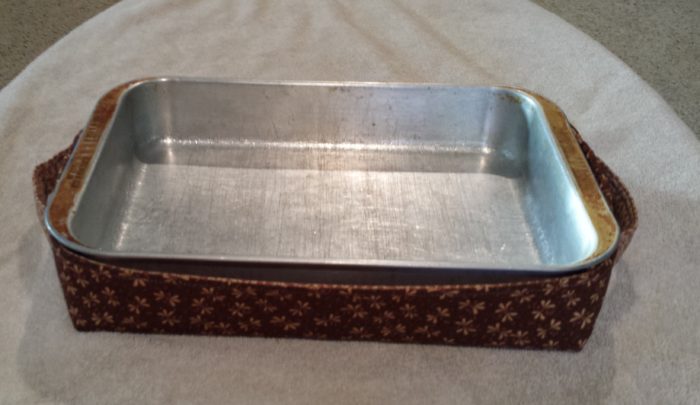 I love Laura's green checked basket.  Well done!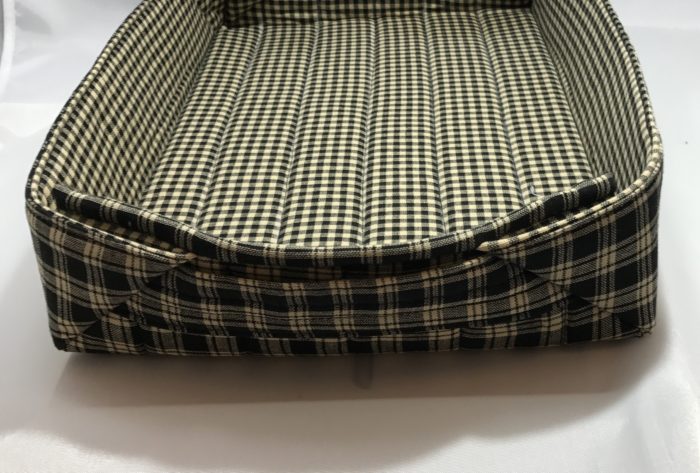 Jessi's basket looks amazing with that beautiful white dishware.
Erin's red basket with the glass dish would jazz up any table.  Bring on the hot dish!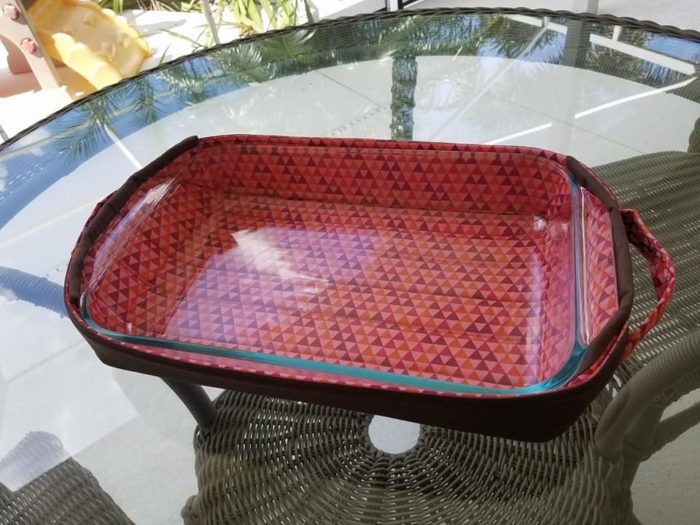 Caralee's basket is pretty and well made, too.  Fabulous!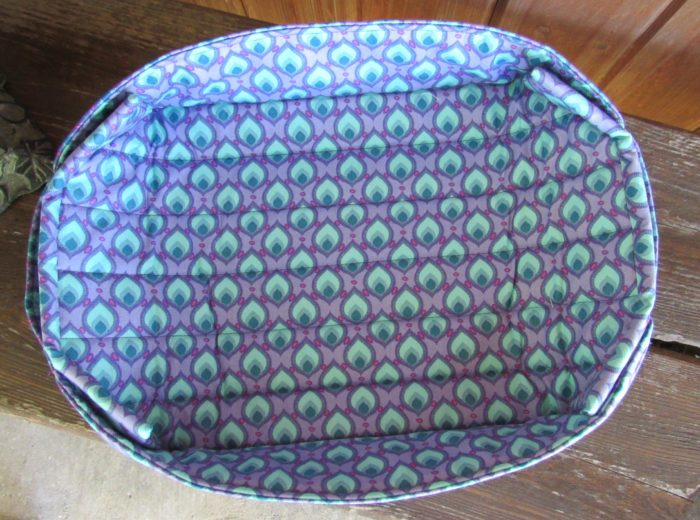 Joyce's basket is so pretty and beautifully sewn.
Well, I guess that turned into more than a few but they are so fun I couldn't stop uploading pictures.
That's it for now.
Happy Sewing!
Lisa