The McKenna Bag has now completed the testing process, and many phases of editing and proofreading.  You can get it in my retail shop as a downloadable PDF.  I am so pleased to share tester pictures of the new McKenna Bag.  They really are outstanding! This was a fabulous group of testers and it is so fun to see what they have to share.
First, let me tell you a few things about the  McKenna Bag.  It is a cross-body bag with an adjustable strap. As you can see the flap is quilted and has a flap edging that can be sewn in the same or a different fabric.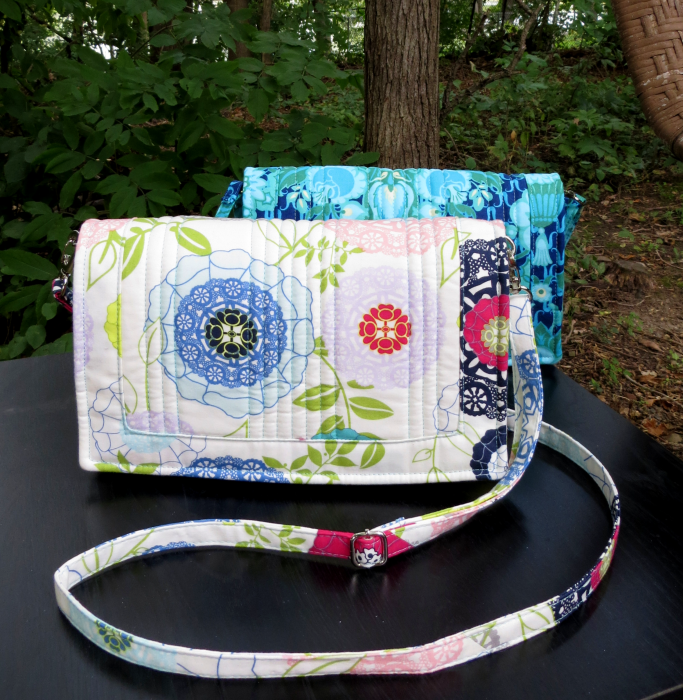 The inside is just full of pockets! It has a front pocket for a cell phone, and there are subdivided pockets on the interior front and back as well as a center zip pocket to hold valuables.  Even though this bag is only 5-1/2″ H x 9″ W and 2″ deep, it holds a lot and keeps it very organized!  I have been using the McKenna Bag for two months now and it is my new favorite bag!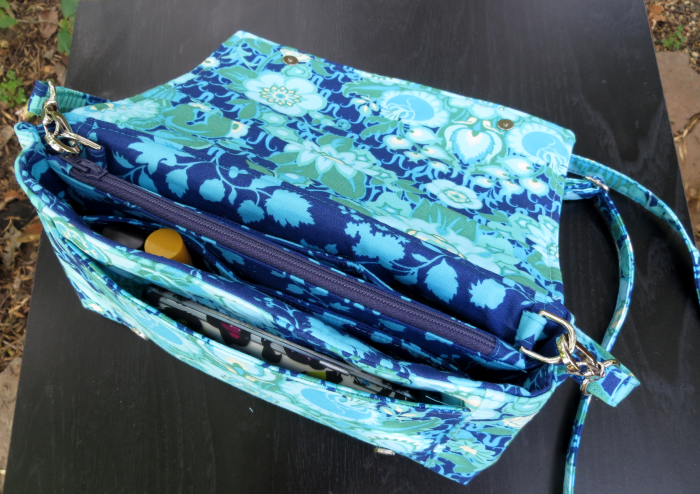 So, onto the tester bags.  First up is this beautiful bag made my Liz.  She used a soft suede on the flap edging which adds some beautiful texture to the bag.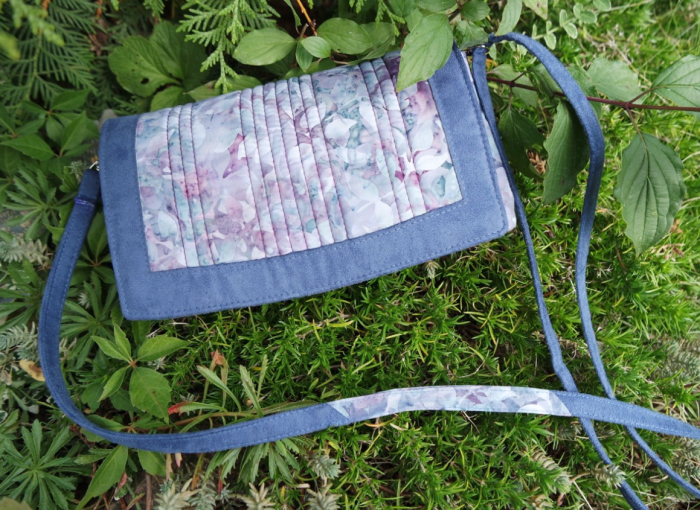 Inside you can see the front cell phone pocket, the  slip pockets and the center zip pocket.  Liz used more of that beautiful suede inside and it looks wonderful!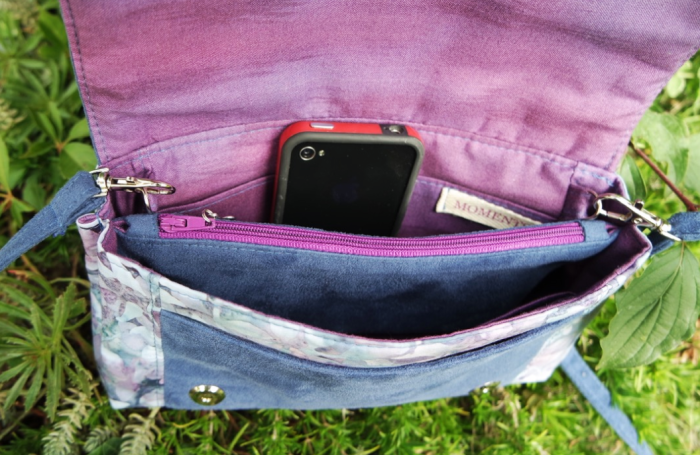 Peggy made this beautiful green and black McKenna Bag.  She did a lovely job of sewing her bag and I especially like how her flap and flap edging play off each other.  Great combination!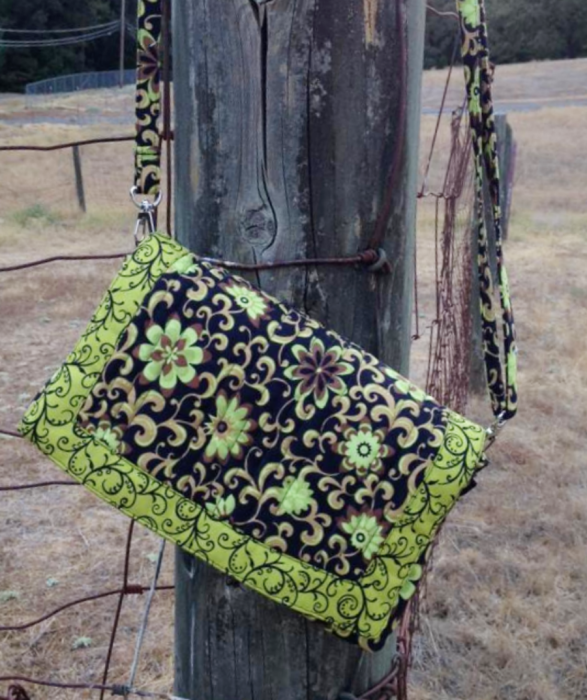 Next is Stacey's amazing bag.  The Art Gallery fabric she used created a shimmery effect.  Love, love, love it. Beautifully sewn and a gorgeous fabric combination.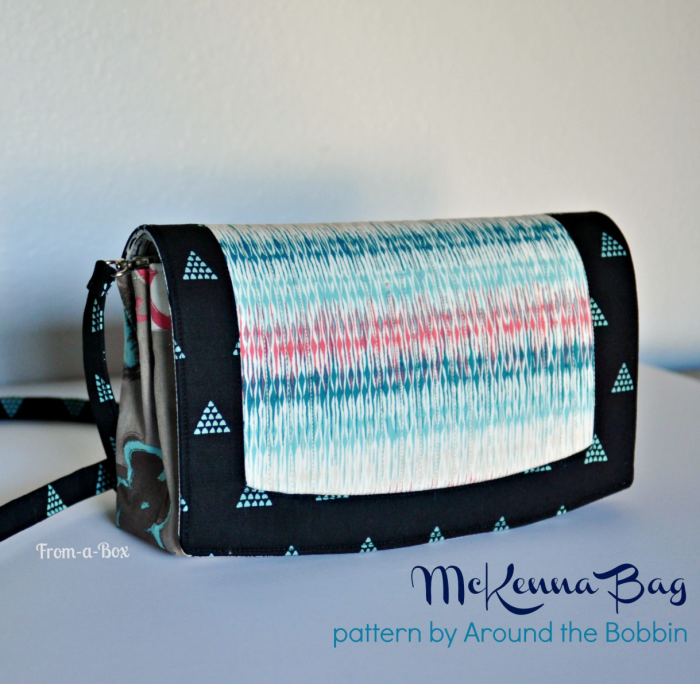 Ramona took fussy cutting to a new level with this beautiful bag front.  I really like her artistry in placing the fabric and having the flap edging match so well.  Very nicely done!
Patricia did a great job on her bag with these luscious fabrics!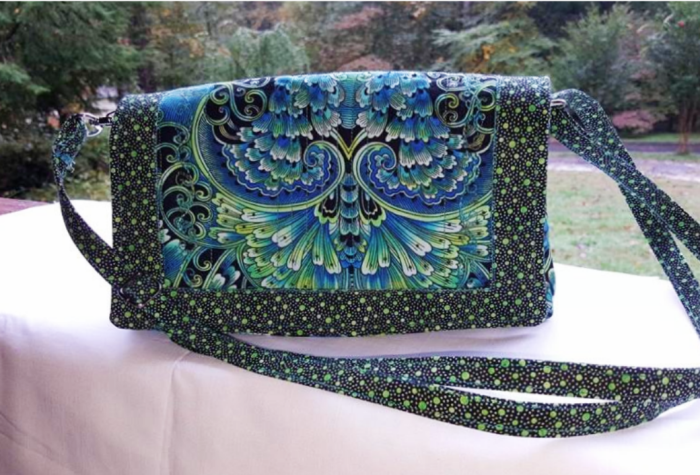 Next up is Monica's cheerful bag.  I love seeing all the different fabric combinations because it helps everyone get ideas of what they would like.  I like the use of the orange solid to set off the modern paisley front.  Fabulous!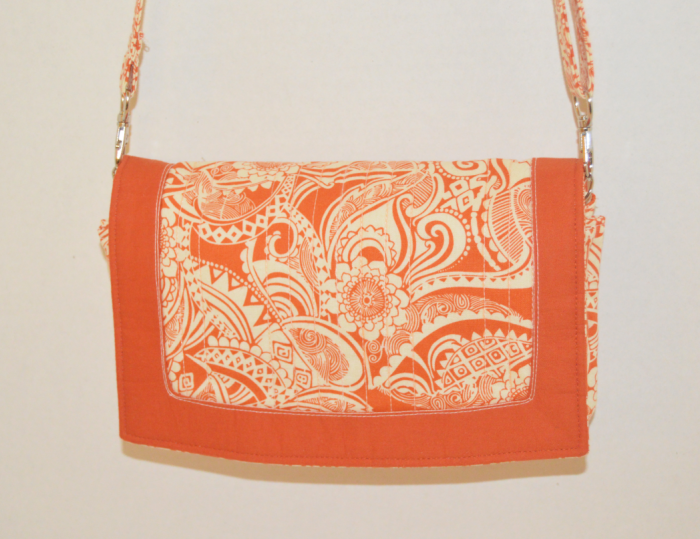 Michele used a lighter-weight woven decorating weight fabric for her bag. The added texture from the fabric is a nice touch!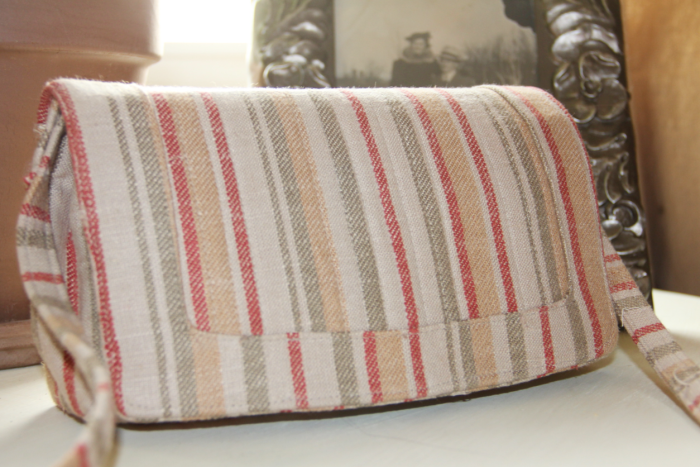 Leigh Ann made such an elegant bag. She cleverly combined a faux leather with a cotton print edging for a really classy effect.  The stitching really works well on her bag!  Great job!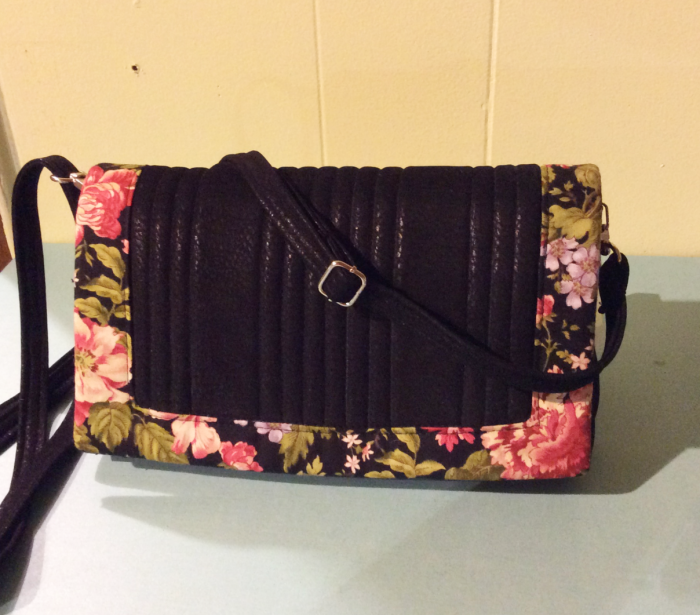 Judy's bag is so cheerful and pretty. It just makes me happy to look at it 🙂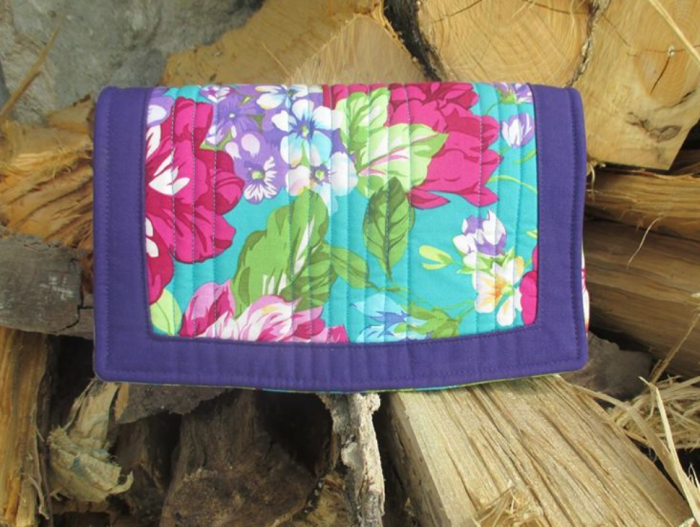 Joyce did a terrific job of pairing fabrics on her bag.  Really like how the yellow sets off the yellow in the circles. Great combination and nicely sewn!
Jenniffer's bag is so professionally put together, and it shows.  What a great fall bag!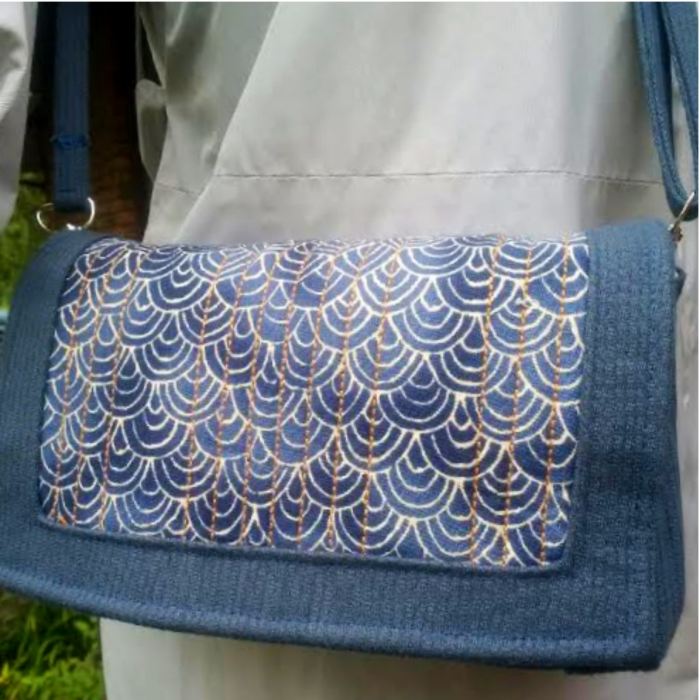 Erin's purple batik fabrics take center stage on her bag.  I love how she offset the circles on the front and nicely combined it with a print fabric.  Great job, Erin!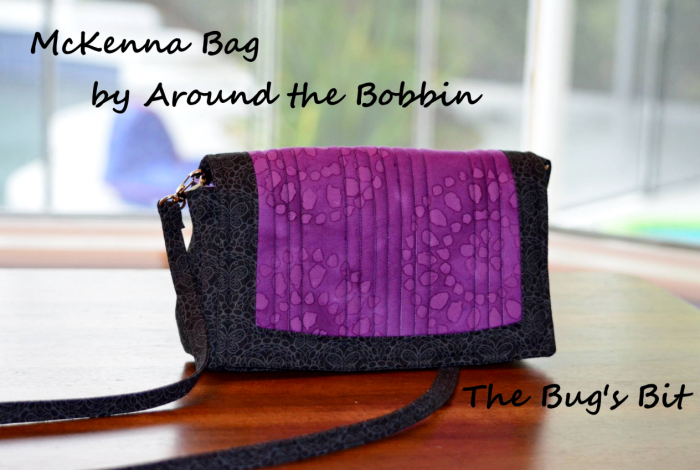 Amber changed up her bag by using faux leather, decorative stitching and a shorter flap. How fun to see where you can go with this pattern by modifying some things!  Nicely done Amber.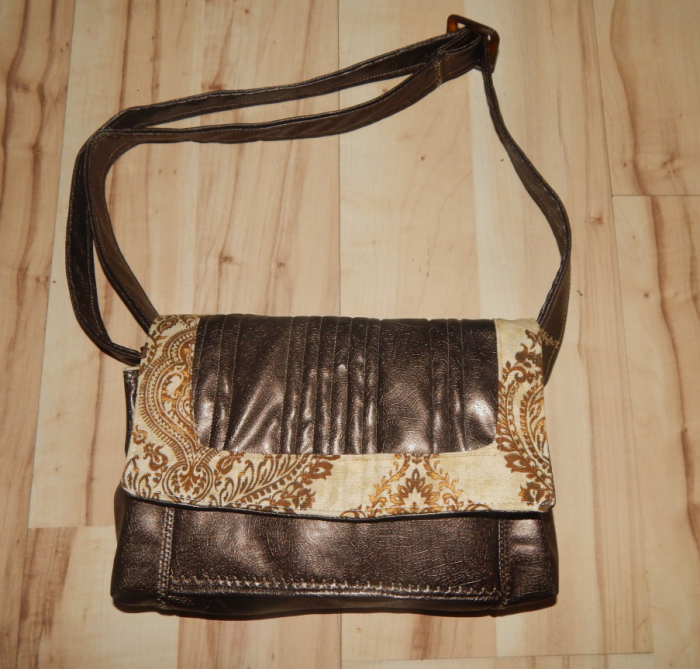 I really like how Caralee put her bag together.  Very well sewn and a fun print – this bag just looks fabulous!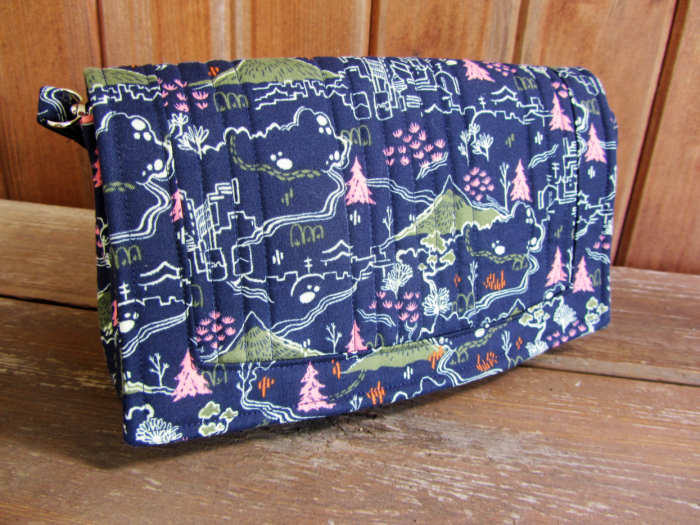 Ana changed things up a bit with faux leather and a chain handle.  Love this look!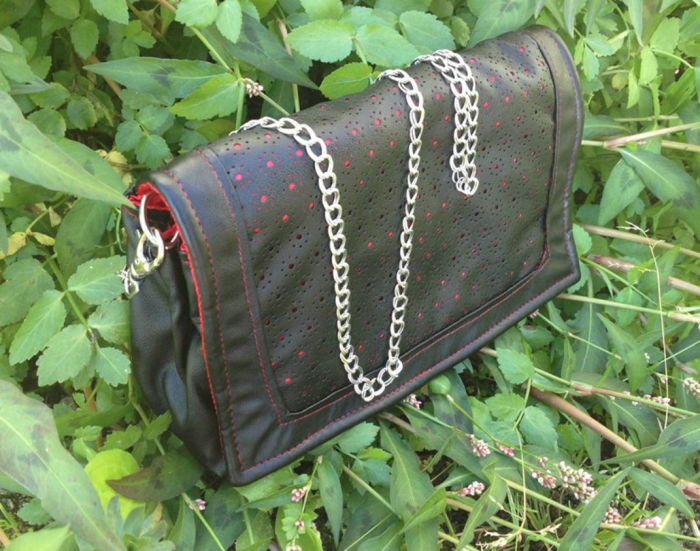 Well, that ends our tester preview of bags!  Didn't they do an awesome job?  It is so fun to see the way these bags turn out and I really have enjoyed this group of gals!
The bag is available in the store right now as a downloadable PDF pattern.  Use the code MCKENNA for a 20% discount off the PDF pattern now through Sunday (end of day CST). Don't sweat the hardware–beautiful hardware is ready for you– McKenna Hardware kits are available as well at the store.
The paper pattern will be available at local quilt shops and online at the end of the month.
Thanks for stopping by and sharing in the fun of a new pattern and the beautifully sewn tester bags.